Today I'm going to answer most of your questions concerning skin care. Here is a short list of the inquiries you sent most often:
What's the best vitamin C face serum? or alternatively What's the best brightening face serum?
What should I take into consideration while looking for a brightening serum for myself?
Which vitamin C face serum is good for me?
What's your skin routine?
I'll answer the last question straight away — I don't do much. To be honest, in my daily skin routine I focus only on two aspects: deep cleansing & applying a top-performing brightening serum. In a moment I'll try to explain to you what a top-performing serum is and how to find it. I'll also tell you a little bit about the benefits of vitamin C for skin. And finally, I'll give you the names of my fave brightening face serums that are A-MA-ZING!
How can vitamin C improve your skin?
If you've heard that vitamin C is powerful, mighty and simply great, well that's actually exactly what vitamin C is. Without getting much into details let me just tell you that this nutrient is able to cope with a few skin concerns in a single step. The list of benefits for skin is pretty long, therefore I'll enumerate just the most important ones.
VITAMIN C:
refines skin's texture for smooth complexion
erases signs of fatigue from your face
helps you deal with wrinkles
evens out skin tone
unclogs and shrink pores
combats blemishes and imperfections
moisturizes, balances sebum and prevents dryness
shields from oxidative stress
reinforces UV protection
Sounds good? Of course, it does. So don't wait any longer but get yourself a bottle of a top-performing vitamin C face serum. First, check the product for the vitamin C form it has. To help you with that, I'm presenting you with the most common forms of vitamin C that are added to cosmetics nowadays.
Vitamin C and all its forms
Even though a face serum is enriched with vitamin C, or at least this is what the inscriptions on the packaging says, it doesn't mean that this skincare product is potent enough to deliver you the desired results. To choose wisely, you need to know the names of most common vitamin C derivatives, as well as their effect on the skin.
ASCORBIC ACID That's a pure version of vitamin C, the most basic one. Sadly, it happens to break down when exposed to the air or sunlight. This means that its concentration in a face serum must be really high to bring out all the amazing effects.
SODIUM ASCORBYL PHOSPHATE This is a super gentle form of vitamin C. I guess it's the gentlest one, actually. It gives subtle effects.
3-0-ETHYL ASCORBIC ACID Currently the best, the most stable and effective form of vitamin C that you can get.
TETRAHEXYLDECYL ASCORBATE When used in heavy creams or oil-based products, it delivers pretty decent results.
ASCORBYL GLUCOSIDE In most cases it gives okayish results but it must be added to water-based or gel-based products.
If you look for the best results, or if your complexion is uneven, I'd suggest reaching for 3-0-Ethyl Ascorbic Acid.
My 3 top-performing vitamin C face serums
THE 1st PLACE: Nanoil, Vit. C Face Serum
Brightening face serum formulated with 3-0-ethyl ascorbic acid & punarnava root extract
As you can see this product is destined to achieve great success. Why? Just look at the form of vitamin C used! Yes, it's 3-0-Ethyl Ascorbic Acid combined with punarnava extract known for promoting even-looking complexion. It also combats oxidative stress. Overall, this serum's formula is really something. Its texture is another plus to mention. I don't find it heavy or clogging, which is worth emphasizing. Add a cool price and big size and it appears that there is nothing to complain about. The effects are literally excellent. With Nanoil Vitamin C Serum you get a pretty-looking, firm and moisturized face with no traces of discoloration. And you don't have to wait long to see the results. I guess, Nanoil launched the best face serum I've had so far.
product website: www.nanoil.co.uk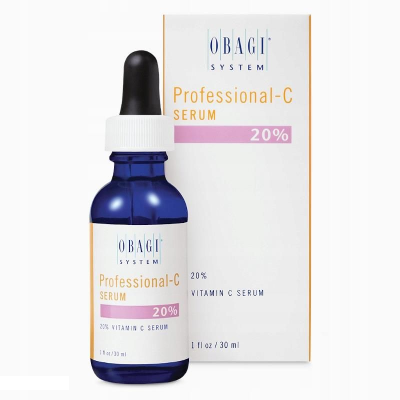 THE 2nd PLACE: Obagi, Professional-C® Serum 15%
Brightening face serum formulated with l-ascorbic acid and ascorbyl glucoside
I like it, I really do. Professional-C® Serum 15% delivers promised results, I can't say it doesn't. However, I don't think I'll buy it again anytime soon. Why? Check its price and you'll understand why 🙂 But if you aren't tight on budget, then give this serum a whirl! You'll get a blend of two vitamin Cs: L-ascorbic acid and ascorbyl glucoside. I'd recommend this serum to those who suffer from discoloration and want to remove the signs of aging from their faces. Naturally, as other serums with vitamin C, Obagi Professional-C® Serum 15% also promotes even-toned and brighter complexion. Actually, it should also work for mature skin because it's formulated with substances responsible for delaying ageing. Lastly, this product has irritated me zero times.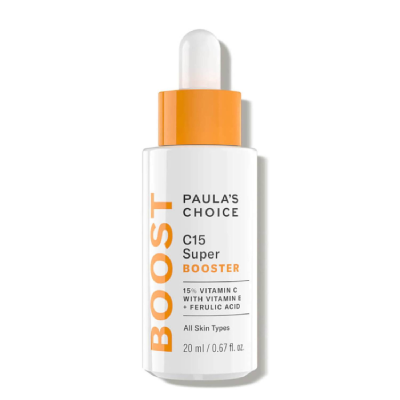 THE 3rd PLACE: Paula's Choice, Resist C15 Super Booster
Brightening face serum formulated with l-ascorbic acid, vitamin E and ferulic acid
Do you know Paula's Choice? Perhaps this isn't a world-recognized cosmetic brand but they know how to make cosmetics. I love every single drop of their Resist C15 Super Booster! This serum's formula stands out because in its white bottle you can find a large concentration of vitamin E, ferulic acid and peptides that are responsible for rejuvenating the skin by stimulating the self-renewal processes. Vitamin C used in this serum is basic, meaning that it may break down before you put it on the face. However, there's as much as 15% of vitamin C so I guess it's not that bad, especially that it gave me the results I had been looking for achieving. I also like the fact that Paula's Choice Resist C15 Super Booster has hyaluronic acid so it also replenishes moisture to the skin. It's perfect for the summer because it doesn't leave any oily feel.
My 3 top-performing vitamin C face serums: Summary
These are my top 3 brightening face serums that I'd recommend to everyone. No matter if you choose Nanoil Vit. C Face Serum, Obagi Professional-C® Serum 15% or Paula's Choice Resist C15 Super Booster, I'm sure you will be satisfied with the effects. Brighter, even-toned and clear complexion is within your reach. All you have to do is visit some online shops or official websites of these products and start applying a chosen serum on a daily basis to your clean skin. My last piece of advice for you is to use some creams with SPF in the morning, just in case.
If you happen to need more info on these face serums, leave a comment. I'll do my best to clear up all your doubts the quickest possible.
Take care of yourself and your loved ones!