On this beautiful and sunny day I'm more than happy to welcome you on my blog with a fresh review of a marvelous vitamin C face serum launched by Nanoil. While describing you this skin care product, I'll also do my best to answer three very important questions:
How does vitamin C benefit your skin?
Is a vitamin C face serum better than a face cream?
Which vitamin C face serum should you choose?
Let me begin with telling you that it wasn't that long time ago when I had no idea whatsoever about the benefits of vitamin C in skin. Similarly to most of you (I assume), I also thought that ascorbic acid is a great weapon to fight off a common cold and… that would be it. So, I guess, the thing that connects us is the ignorance towards the application of vitamin C in cosmetology 🙂 I hope that with this post I'll manage to expand our knowledge concerning vitamin C and the beauty products containing this essential nutrient. Ready for a few interesting pieces of information? Let's start!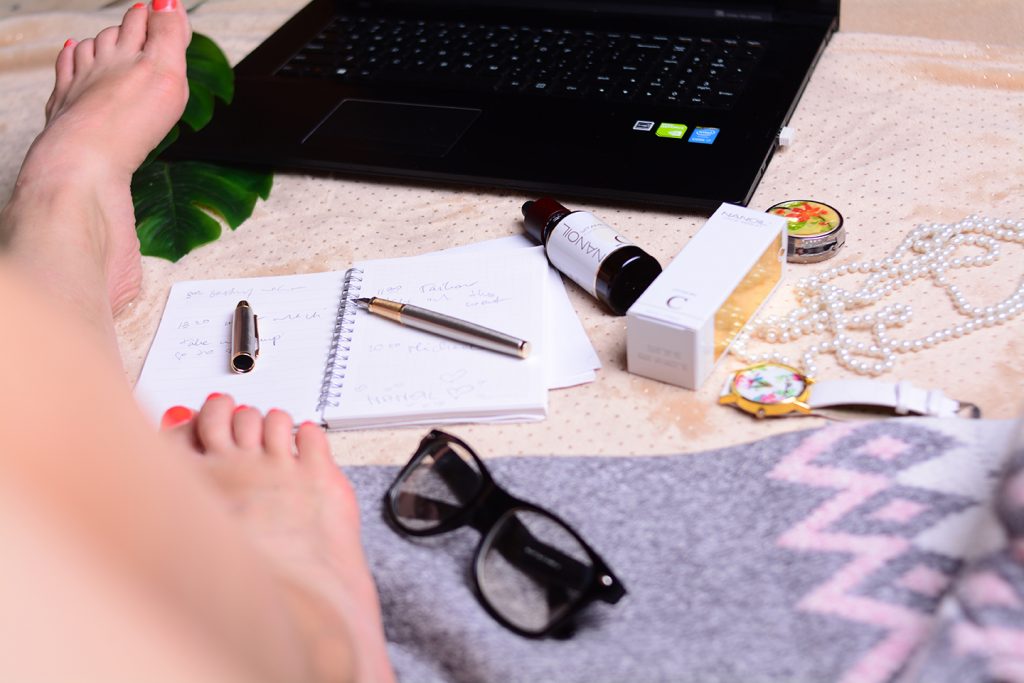 How does vitamin C benefit your skin?
The secret of effective skin care is the application of the right ingredient that will accomplish two missions in a single step: take good care of our skin and shield us from the invasion of the formidable enemies – free radicals, toxins, UV rays. I strongly believe that the task of keeping our skin protected and maintaining its good condition should be left to vitamin C. In a moment you will see how multitasking this vitamin is. Also, soon you will understand that vitamin C is able to provide us with what we need in our daily fight for youth.
Anti-oxidation – vitamin C is perfectly capable of dealing with these nasty free radicals that keep ruining our face. In plain language, vitamin C neutralizes free radicals which means that our skin ages at a slower pace. As a result, the first signs of ageing become visible on our faces later.
Renewal – ascorbic acid gives our skin energy boost it needs to carry out self-regeneration processes. Also, vitamin C encourages production of new cells and leaves skin in a good condition.
Brightening – one of the most distinctive features of vitamin C is this the ability to highlight discolorations, refine skin texture and leave skin a tone or two whiter so it looks young and radiant.
Rejuvenation – owning to vitamin C, the appearance of wrinkles is significantly delayed, skin doesn't get flabby but stays resilient and looks younger.
Protection – ascorbic acid works like a shield for our complexion, and therefore UV rays, toxins, free radicals and all that jazz are no longer so hazardous for our skin; they don't do any harm to us at all.
Is a vitamin C face serum better than a face cream?
If you're now wondering what cosmetic with ascorbic acid should you choose, let me dispel your doubts. The best choice, obviously, is vitamin C face serum that in general is far better formulated than a regular face cream. What makes it superior? For example, a lightweight consistency and the fact that you don't have to apply much to replenish skin with maximum nourishment. Another advantage that a face serum has over a face cream is that the former is a blend of the best active ingredient concentrates. Last but not least, it's runny and safe even for the skin with tendency to congestion (which is often caused by regular face creams).
Which vitamin C face serum should you choose?
Finally, the burning issue, that is the selection of the right cosmetic. Do you know what vitamin C face serum is the best for your skin? I already have my fave product that I'll tell you about later. However, if you're still in the search of the right skin care product, please make use of the pieces of advice I want to give you.
Bear in mind that a good vitamin C face serum:
should be formulated with the stable form of vitamin C.
doesn't have a long list of ingredients.
has to be lightweight and absorb easily.
should receive positive reviews because this proves its effectiveness.
All the above-mentioned requirements are fulfilled by my absolutely favorite face serum with vitamin C by Nanoil that I've been using for 3 months now. Today is the day when I can write a review about my latest discovery.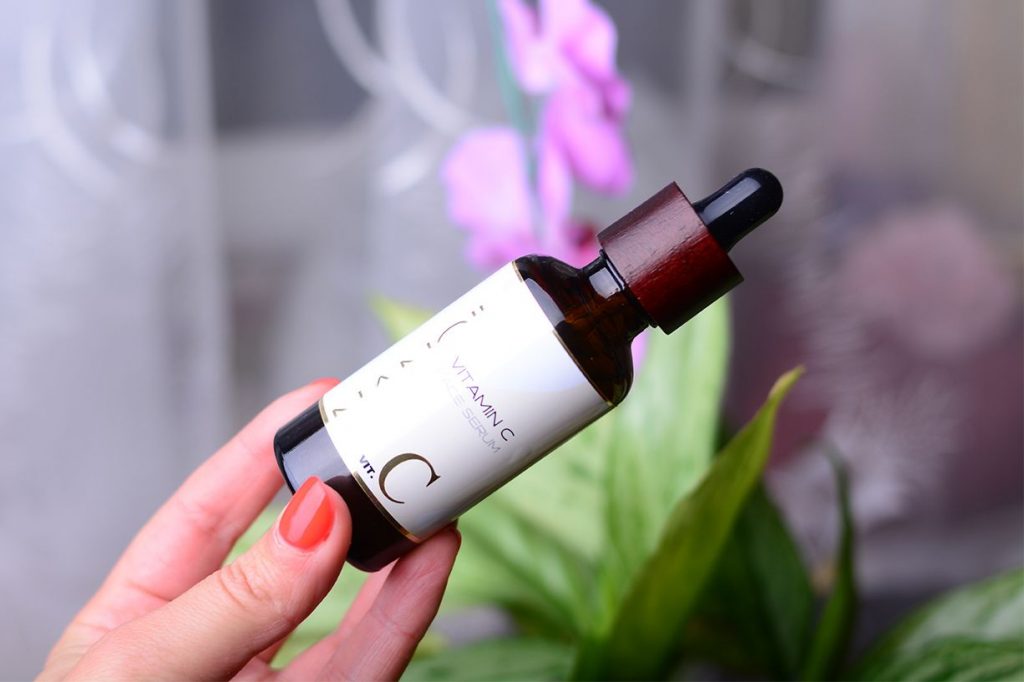 Nanoil vitamin C face serum
When you take Nanoil face serum into your hands, the very first thing that attracts attention is the unmatched quality. By looking at the bottle you can tell that this enriched with vitamin C product is really something. The bottle itself looks small; is decorated with a nice-looking label and a screw with attached dropper. I'm sure you will agree with me when I tell that a good cosmetic must have a good-looking design.
Obviously, more important than the design is the way a face serum affects skin, and in this case the effects are more than satisfactory. The list of ingredients is short, which is a massive plus. Apart from the stable form of vitamin C, Nanoil Vit. C Face Serum is formulated with a nourishing plant extract owing to which the serum:
nourishes, increases moisture levels and regenerates skin;
makes us look younger;
restores suppleness and resilience to skin;
improves skin condition and refines its texture;
offers protection against sun rays and free radicals;
has a skin-lift effect.
The serum itself is water-based, has no intensive aroma and is colorless. This is owed to the well-selected ingredients. In general, the formula of Nanoil Vit. C Face Serum is free from parabens, colorants and other things you wouldn't like to put on your face. This has another advantage because since Nanoil face serum isn't thick, it penetrates skin within a couple of seconds only, without creating any discomfort on the face. The skin doesn't feel heavy or sticky. On the top of that, application of Nanoil Vit. C Face Serum is incredibly pleasant!
While enumerating all the positive things about Nanoil Vit. C Face Serum, I'd like to draw your attention to the price that – at least in my opinion – is really competitive. Nanoil Vitamin C Face Serum can be bought cheaply on www.nanoil.co.uk and a delivery guy will hand it to us pretty fast. Convenient, isn't it?