You often ask me about my favorite hair masks and I happen to have three of them. They have one thing in common – each one contains keratin. While shopping for hair products, I usually add some keratin-spiked items to the cart. Every hair type needs this ingredient. No matter if yours is damaged or healthy – keratin will do it good. By reading on, you'll find my beloved, best-working hair masks that I've had so far. <3
Do all hair types really need keratin?
It turns out that keratin makes up 80% of each hair. When its amount drops, then hair becomes dull, dry and prone to damage. Only products rich in this very ingredient are able to get into the deep layers and replenish it. Regular application of such cosmetics restores shine, softness and resilience, but mostly it repairs damaged hair structure. The ingredient also makes sure hair is protected from all types of damage (chemical processing or mechanical injuries). I prefer to use keratin-based masks, not conditioners, because they are more intense and have an actual effect on the look and health of hair.
How do I use keratin hair masks?
First I wash the hair as usual, and, keep that in mind, I always make sure to wring the excess water out into a towel – by doing so, I know the mask will stay on instead of dripping off. Next I evenly work the mask through the strands (from mid-lengths), and, if I have enough time, I comb the hair for even better distribution. After ten minutes, I use lukewarm water to rinse the product out. I believe applying a mask sparingly is crucial because a small amount is enough while the excess of such product weighs hair down and causes oiliness. That's not the effect we want, do we? I made this mistake once or twice of course, but then I figured how much was enough.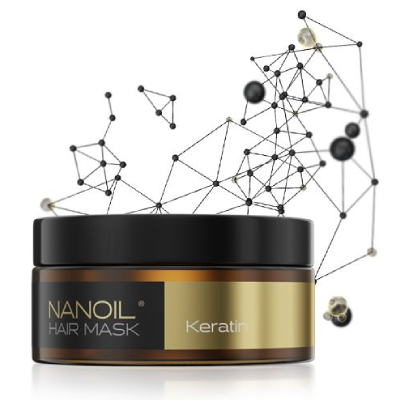 Nanoil Keratin Hair Mask
This mask is high in keratin – it's a major ingredient, not just an addition. Nanoil scores a point for that! The manufacturer put a hydrolyzed type which has tiny molecules. They ensure keratin penetrates the hair more easily. As a result, damage is repaired in a short time. An extra component – panthenol – makes the hair more resilient, and, most of all, perfectly moisturized. Plus, it gives silky smoothness and amazing shine. The Nanoil Keratin Hair Mask guarantees a good hair day and that's why it's the product I use most often.
The Nanoil mask is the most multitasking hair product I've ever had. It's easy to use. I leave it in for 3 or 20 minutes – it never weighs my hair down. You get it in a 300-ml jar for a really good price. If you feel like learning more, pop into www.nanoil.co.uk. I buy it through the website.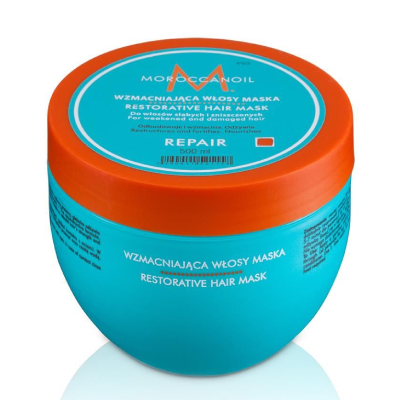 Moroccanoil Restorative Hair Mask
Various oils have a beneficial effect on my hair too. Argan oil is characteristic for Moroccanoil products and it's included in this mask as well. Moroccanoil Restorative also contains keratin proteins and shea butter. I don't use it with every hair wash, just once a week. Otherwise it would weigh my strands down. I loved the product's scent right away. It stays on all day long. The effects amazed me too. It quickly moisturized my hair. After some time I could tell it also had a nourishing effect, plus the hair got stronger. Too bad it didn't reduce the frizz. The Moroccanoil Restorative Hair Mask is thick and I need a large amount to cover the hair fully. Even though I use it just every seven days, it doesn't last me long.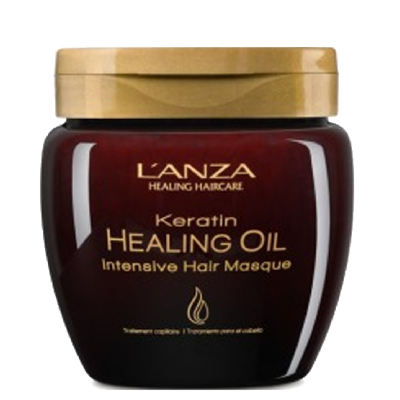 Lanza Keratin Healing Oil Hair Masque
A friend of mine is a hairdresser and it was her who recommended the Lanza Keratin Healing Oil Hair Masque. You'll find it easily through the net. I mostly like it for the intense smoothing effect and taming even extremely frizzy strands. The regular use really repaired my hair, which must have been due to the keratin proteins. The product contains Phyto IV Complex which deeply hydrates. I just wish it would produce effect more quickly. If you want to make it work, you need to wait long and use the mask often, preferably after every washing. Still, being patient pays off because the Lanza Keratin Healing Oil Hair Masque turns hair around. Unfortunately I had to use up two jars to get the result! If you're not scared off by the price, give it a try but I think it isn't unbeatable and there are cheaper masks out there that work amazingly too (and more quickly!).
Please give me the names of your favorite keratin hair masks. I look forward to trying some new items! <3