When the strands are getting weaker, you can immediately notice it simply by looking at them. Such hair is dull, hard to arrange in a good-looking hairdo, is frizzy and splits. What is your reaction? Do you run to the nearest drugstore and buy a half of the whole hair product range you're able to find? Do you try literally everything hoping that you will revive the hair and make it perfectly healthy again? I used to do this myself but now I know that this wasn't the brightest idea of mine. Interestingly, you don't have to apply dozens of cosmetics because damaged hair needs only ONE thing: keratin-rich hair mask from Nanoil. Let me explain why.
Let me introduce you Nanoil keratin hair mask
Is it really the best hair mask? Well, this is at least what the beauty bloggers say. Actually, Nanoil Keratin Hair Mask is also recommended by hairdressers mainly because of its well-selected ingredients that together create a potent hair rescuer. The stunning results created after just a single use of Nanoil keratin hair mask can be felt by everyone, which proves that this product is perfect for every hair type. That being said, I'm sure that each one of you is going to achieve success in hair repair. All you have to do is buy this keratin hair mask and… use it on a regular basis.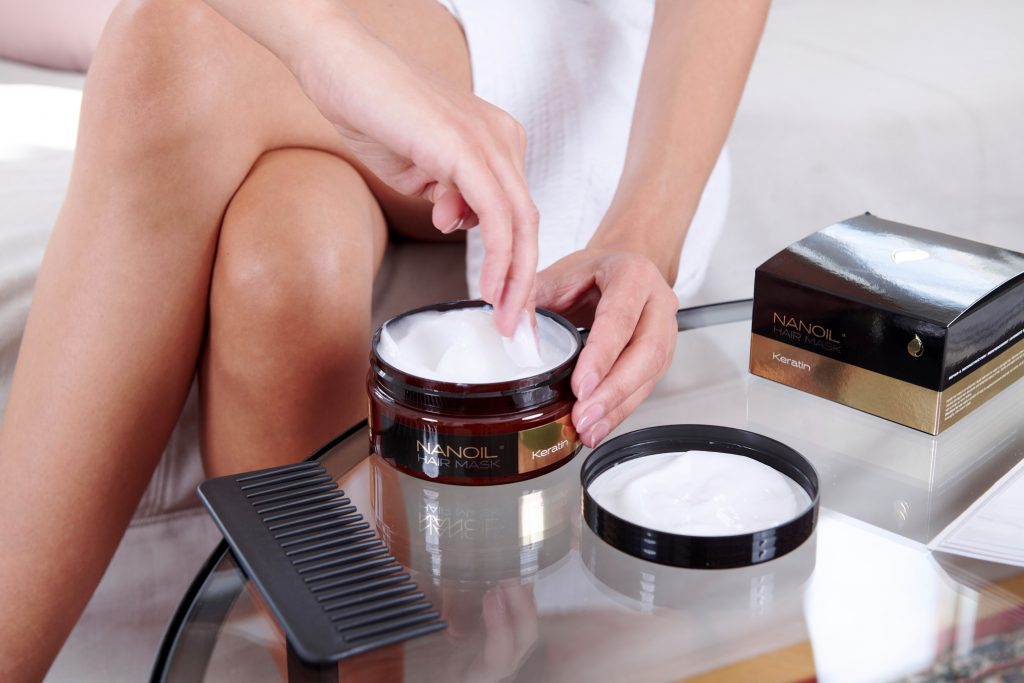 Main ingredients in Nanoil keratin hair mask
Nanoil keratin hair mask is an amazing blend of ingredients. The potent keratin and panthenol duo makes your hair look fabulous like never before. Do you know these two ingredients paired together give better results than when used separately? They boost each other for stronger, repaired and perfectly healthy hair. They reveal shiny and stronger wisps.
If I were to explain how keratin works, I'd ask you to imagine that your hair has cracks on its surface and inner structures. When you apply keratin, it slowly fills in the cracks. Panthenol helps keratin reverse damage, makes hair smoother and more resilient. Together they protect the hair against damage and loss of moisture.
Results of using Nanoil keratin hair mask
1ST USE OF NANOIL KERATIN HAIR MASK. I was totally surprised how fast this mask works! Obviously, you can't expect it to fully repair the hair in just 20 minutes but you will see a significant difference in the way your hair looks before and after treating it with this product. You will get super-smooth strands that are shiny and pleasant to the touch.
A FEW MORE USES OF NANOIL KERATIN HAIR MASK. Now you can see an immense difference! Hair is stronger, resistant to damage and repaired. You can feel that it's no longer rough, and is thicker and fuller. It gets even better after realizing that your hair won more body and still is full-looking and voluminous.
FINAL EFFECT OF NANOIL KERATIN TREATMENT. A little bit of regularity to totally change the way your hair looks and condition it! Even though hair treatment with Nanoil Keratin Hair Mask won't take much of your time (max. 20 min a week), the effects are mind-blowing! You can clearly feel that this mask fills in the cracks that appeared on the hair outer-layer because it becomes smoother. Additionally, strands are stronger and thicker, are bouncy, shiny and look just great. Panthenol creates a super-thin coat that protects the hair against various factors such as urban pollution, dust and others. Lastly, my hair is now more resistant and remains good-looking.
I think I should also add that I experience no problems whatsoever with detangling or styling. A few of my friends noticed that my hair color has improved – it's more intensive. Quite a number of positive effects, right? <3

How should you use Nanoil keratin hair mask?
I followed the directions of use religiously: Once a week I spread the mask along damp hair and rinsed it after 20 minutes. Obviously, if your hair is frazzled, you can put on Nanoil Keratin Hair Mask more often, like every 4-5 days. In my opinion, this product also does it work when used in the form of the damage prevention for normal and healthy hair. In this case, I think that you can apply the product once every two months.
Comments on Nanoil keratin hair mask
As I've mentioned earlier, Nanoil Keratin Hair Mask seems to be beauty bloggers' favorite and one of the top recommended hair products in general. I'm sure, it wouldn't be so popular if it wasn't so good at improving the appearance of hair. Actually I think it would be fair to say that Nanoil keratin hair mask earned its spurs. Which other product would give you so many great things in such a short time?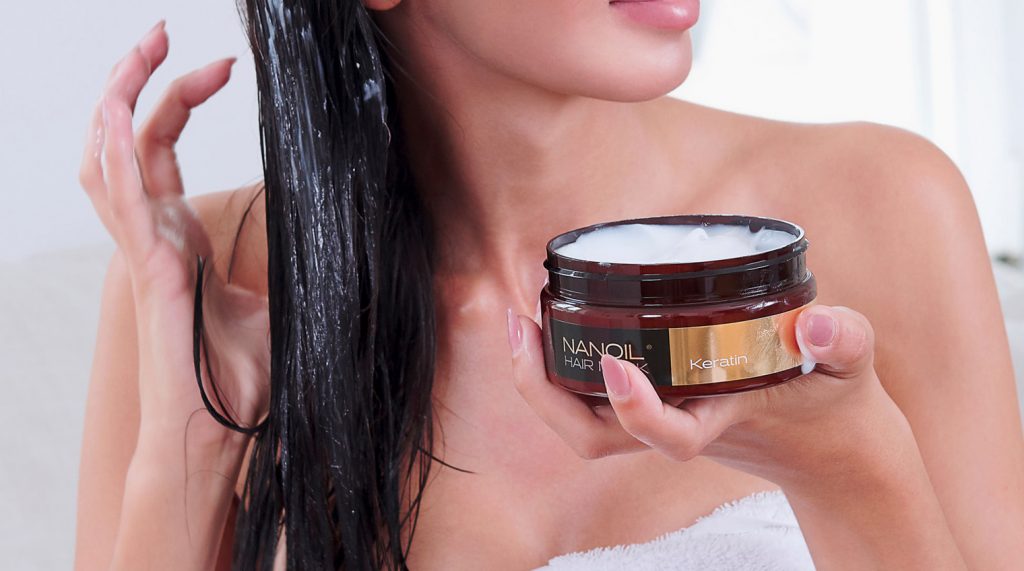 Cost and size of Nanoil keratin hair mask
To me, Nanoil Keratin Hair Mask price is low when you compare it to the high efficiency and its quality. And the size of the jar this product is sold in is pretty big – 10.1 fl.oz. (300 ml), and the cosmetic lasts long.
Where can you buy Nanoil keratin hair mask?
Such an amazing product must have its own website! And obviously it has, therefore go ahead and get it from nanoil.co.uk. If you order more products, you will get free worldwide shipping. Let me know what you think about Nanoil Keratin Hair Mask!